During the past almost 15 years I have been working in the Creative, Design, Digital and Technology Industry, developing projects for B2B as well as B2C users, in both agencies and big companies, in three different countries: Italy, UK, US.
There are several areas of expertise that I cover thanks to my background and career and I can help you with!
Check them out below: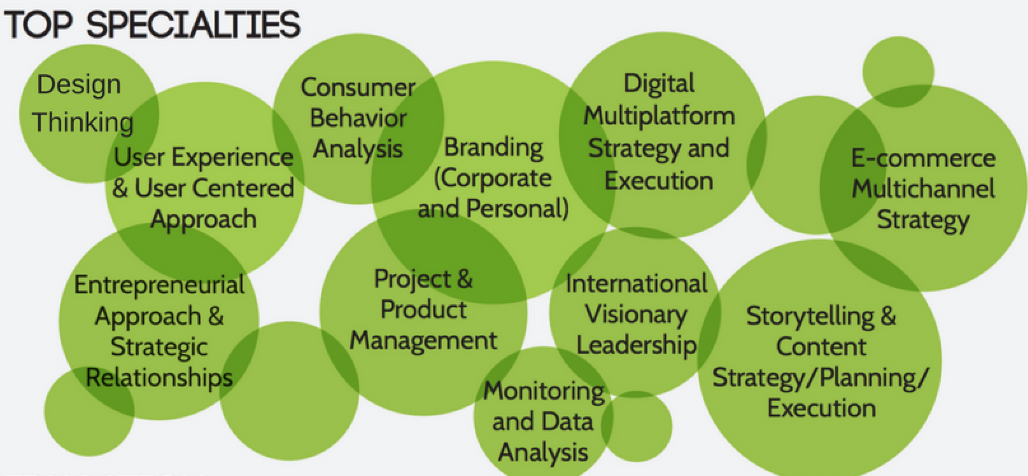 DESIGN THINKING
Throughout my career, I have been always working by applying Design Thinking principles to all the projects I managed, from agencies to big companies. In 2016 I was awarded by a research fellowship by Ca' Foscari University (Venice- Italy) – Department of Management to study if Design, Design Thinking and Creativity can be drivers for Innovation. The study brought me to teach Design Thinking to the international students of the Master Degree in Marketing and Communication, to work with the Library/Museum Fondazione Querini Stampalia to redesign the museum experience and the library experience, to test the Design Thinking approach with brands in the Venice area applying it to their strategic and growth processes. I support companies in understanding the principles of design thinking and incorporating them in their internal processes.
ENTREPRENEURSHIP
I have a strong natural entrepreneurial attitude that I have always applied to all the projects I worked on. I believe that learning how to be an entrepreneur even when you are an employee can support career growth as well as the growth of the brand/business you are working with. Therefore I strongly think that coaching people to be entrepreneurs no matter where they work can become a huge strength for themselves and at the same time for their employers.
DIGITAL STRATEGY AND DIGITAL EXPERIENCE DESIGN
I help brands unlock their digital potential for growth and competitive advantage. I develop unique strategic insights and actionable recommendations focused on the creation of consistent multi-platform experiences.
USER EXPERIENCE 
From e-commerce flows to digital travel guides, from desktop to mobile devices, digital experiences should be always enjoyable. To achieve this, I have learned since the beginning of my career the importance of user experience and applied its principles to all the projects I worked on. I help companies understand the importance of user experience and apply it to each digital experience they design.
CONTENT STRATEGY AND STORYTELLING
By exploring their services and market opportunities, I help companies tell their story through different channels, by developing an effective content strategy to communicate successfully to their target audience on the appropriate channels.
BRANDING
Through market study, competitive analysis and consumer behavior awareness, I support firms to develop and improve their corporate and product brands. This is a mandatory step for companies to be recognized and positively perceived by their target audience.
DIGITAL PERSONAL BRANDING
A successful personal brand is very important to improve your self-confidence, to boost your online presence and support your professional performance. I help managers and their teams build successful personal brands, sharing all my 'tips&tricks'.
TRAINING/COACHING
I believe that Knowledge is the base to develop successful strategies and achieve goals. Through workshops and specific coaching sessions, I share my expertise and help apply it through lateral thinking.