During the past almost 15 years I have been working in the Creative, Design, Digital and Technology Industries, developing projects for B2B as well as B2C users, in both agencies and big companies, in three different countries: Italy, UK, US.
There are several areas of expertise that I cover thanks to my background and career and I can help you with!
Check them out below: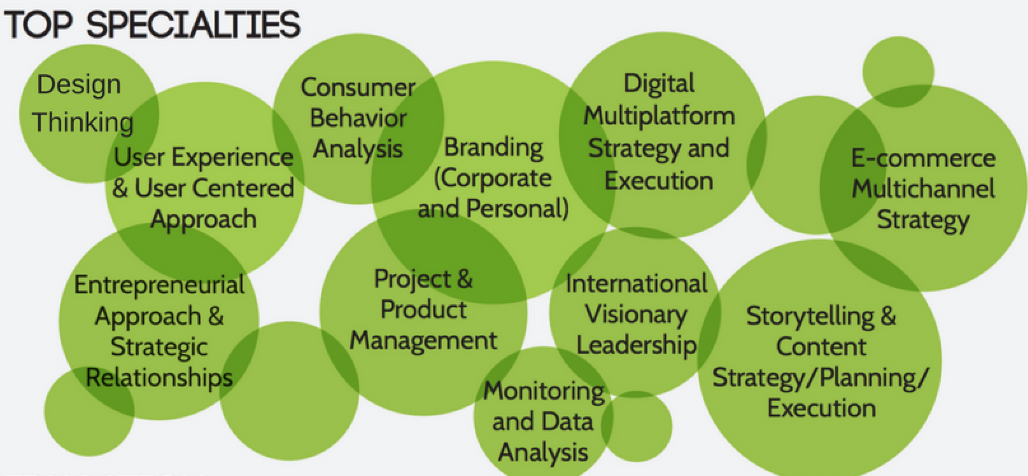 They say love what you do, do what you love. This represents my approach!
So, let's clarify what I do 😉
DIGITAL STRATEGY AND DIGITAL EXPERIENCE DESIGN
I help brands unlock their digital potential for growth and competitive advantage. I develop unique strategic insights and actionable recommendations focused on the creation of consistent multi-platform experiences.
Activities:
Strategic approach
Benchmark and market analysis
Storytelling
Content strategy and production
Social media marketing
Blogging
SEO
Digital advertising
E-commerce experience design
Email marketing
Newsletter management
Digital PR
Data analysis
DESIGN THINKING
I support companies in understanding the principles of design thinking and incorporating them in their internal processes.
Activities:
Context analysis
User interviews
Ideation
Prototyping
User Testing
BRANDING
Through market study, competitive analysis and consumer behavior awareness, I support firms to develop and improve their corporate and product brands. This is a mandatory step for companies to be recognized and positively perceived by their target audience.
Activities:
Brand Assessment
Brand identity
Branding guidelines
Positioning
Brand personality
Narratives and tone of voice
Communication plan
Marketing plan
Go-to market activities
Partnerships
TRAINING/COACHING
I believe that Knowledge is the base to develop successful strategies and achieve goals. Through workshops and specific coaching sessions, I share my expertise and help apply it through lateral thinking.
Activities:
One to One training sessions
Coaching sessions tailored for teams